So at the weekend, I headed home to my parents and I ended up making meringues. Meringues make my list of 10 ten easiest and yet most impressive desserts you make. If you can separate an egg  ( you may want to look it up on youtube if you don't know), you can whisk meringues together and perfect something fantastic from 2 ingredients.
Ingredients:
-3 large eggs
-3 ounces granulated sugar
-3 ounces demerara sugar
-A pinch of salt
Method:
1.Combine sugars and separate eggs.
2. Put the egg whites into a bowl and whisk till stiff, gradually whisk in the combined sugars a spoonful at a time whisking until you have a stiff meringue and all the sugar is mixed well inches.
3.Divide into 2 or more as required and place onto parchment paper in baking trays, this mix should make enough for 6 servings.
4.Bake in a cool oven130C 250F for 2-21/2 hours.
5.Take out of the oven to cool.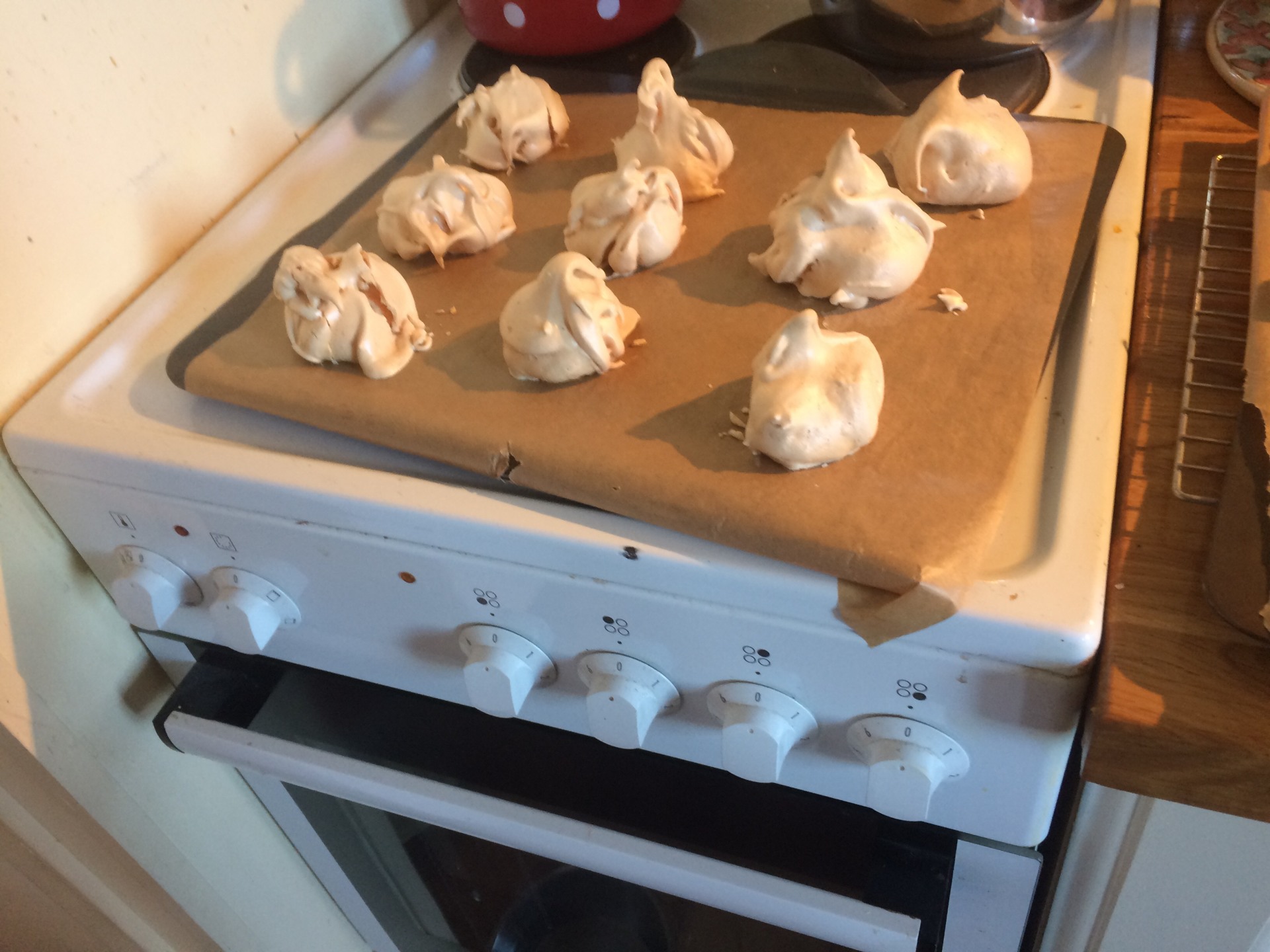 If you have them, whisk with electric beaters because otherwise, you'll be there all afternoon if you do it with an ordinary whisk. Also, they only take an hour to bake. I have no idea why she said 2 1/2 hours because if I'd done that, mine would have been burnt to a crisp.
They should be served with some kind of fruit either lemon curd, or stewed fruit because the meringues are overpoweringly sweet. I had mine with stewed plums (cause my parents are still eating last Autumn's plums and therefore they were compulsory!)
Overall review: 
Taste: 9, cause I do love a good meringue. Very chewy and just sweet enough.
Shape: 6, but that's cause I made them
Recipe accuracy : 7, cause of the weird timing in the oven
Would I bake again? Is  that even a question?