I'm now back in Glasgow in my student flat and I decided that because I move out soon, I should start using the stuff that I have in my cupboards. Hence how I ended up making these. Despite the fact I didn't have enough apricots or any treacle, I assumed it would be fine.  I'd been to the co-op twice and
I didn't think I could go a third time.
Ingredients
Makes 16
200g dried apricots
225g salted butter, cubed
120g light brown
muscovado sugar
150g runny honey
Zest of 1 lemon
2 tbsp treacle
400g rolled oats
200g white chocolate for topping
Essential equipment
30~20cm/12~8-inch Swiss roll tin, greased and lined with baking paper
 I didn't have a swiss roll tin so I used our pyrex dish that we share in our kitchen. I also didn't  have greaseproof paper so I buttered it…with my fingers. Don't ever try this at home kids unless necessary, it's not a pleasant experience.
Method
1. Preheat the oven to 180°C/Gas 4.
2. Finely chop the apricots.  I did this in my wee mixer. 
3.Put the butter, sugar and honey in a saucepan over a medium heat and stir until melted and well mixed, then add the apricots, lemon zest and treacle and mix in.   I found our communal grater and trust me to drop it in the mixture, getting it covered in syrup. This was the first of many cooking mistakes that day.
4. Tip in the oats and stir into an oaty mush.
5. Dollop into the prepared tin and even out. Bake for 20–25 minutes, or until just darkened around the edges and golden brown in colour.
6.Remove from the oven and allow to cool completely before turning out from the tin and slicing into 16 rectangles or triangles.
7.Melt the white chocolate in a heatproof bowl over a pan of barely simmering water. From here you have a couple of choices. You can dunk one end of each flapjack into the melted chocolate, or you can drizzle the melted chocolate over the flapjacks. Or maybe do half and half. Allow the chocolate to set. This was something else that went wrong. I burnt it in the microwave and when I tried to scrape it off, making it spark everywhere, causing me to wonder if I had caused myself a degree burn on my neck. I hoped none of my flatmates would come in as I made myself a clingfilm plaster/necklace. I took my flapjacks out of the oven and I decided to take a break and have dinner as I had a baked potato in the oven as well.  After dinner, I melted more chocolate as one of my poor long-suffering flatmates tried to make dinner around me.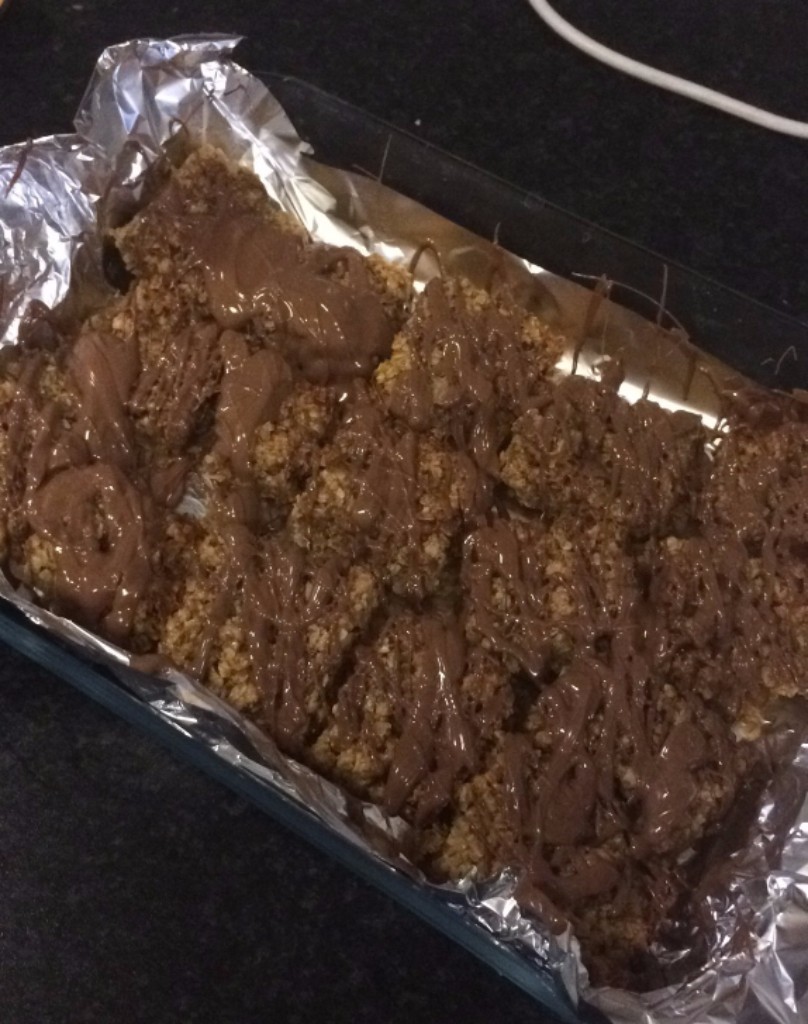 So my moral of this story is that you should never melt chocolate in the microwave. It just ends badly. And you can make these without the exact amount of apricots just chop them up really small. I wish I was better at baking.  I suppose it's a learning thing eh?